Goddess of Cannabis Witchcraft
There are many different Goddesses of Cannabis and Witchcraft from every culture around the world.
The most important Goddess of Cannabis Witchcraft is Bast (ancient Egyptian name). The center of worship of Bast at Per-Bastet (which the Greeks called Bubastis) in the 18th Sepat (which the Greeks called a nome) of the Nile Delta, Am Khent (which translates as the Prince of the South).
Goddesses:
Portions of a red granite foundation are all that remain of the world's largest temple, the main Temple of Bast on the main island of the Am Khent sepat.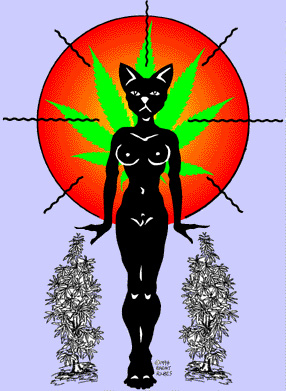 Bast: Bast, or Bastet, is one of the oldest of the Kemetic neteru. The city of Per-Bastet, capital of the Am Khent sepat (or state), was dedicated to the worship of Bast. Bast is a very complex and complete Goddess. She if often described as the Goddess of cats and usually depicted as a beautiful human woman with the head of a cat. She is also the Goddess of cannabis and every cannabis plant is a physical embodiment of Bast. All followers of Am Khent Kemeticism are required by their religion to honor Bast, cats, and cannabis.
The Greeks called this same Goddess Artemis. The Temple of Artemis (or Diana) at Ephesus was one of the seven wonders of the ancient world.
The Romans called this Goddess Diana.
The Germans called this Goddess Easter. The famous Germanic holy day of Easter, held on the first day of the sun following the first Full Moon after the Spring (or vernal) Equinox, is a celebration of this Goddess and the return of spring. The use of baskets of grass filled with eggs and carried by a mythical rabbit are all symbols of Easter's role as the primary Goddess of fertility.