pyramids
The courts often consider the existence of pyramids in determining if a religion is legally valid.
legal standards
"5. c. Gathering Places: Many religions designate particular structures or places as sacred, holy, or significant. These sites often serve as gathering places for believers. They include physical structures, such as churches, mosques, temples, pyramids, synagogues, or shrines; and natural places, such as springs, rivers, forests, plains, or mountains." —United States of America v David Meyers
"established places of worship," —IRS definition of a church
Kemetic or ancient Egyptian religion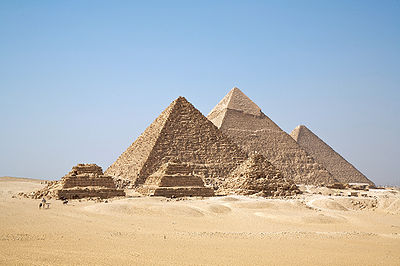 Great Pyramids at Giza
photograph by Ricardo Liberato
19 June 2006
dust removal and white balance by kiwaner
The Great Pyramids on the plains of Giza are the only surviving of the Seven Wonders of the World. They survived both Roman and Muslim attempts at destruction.
Please note that the Pharaoh and his wife engaged in Ntr Sentra ritual at the location where each pyramid was built. The wife of Paraoh (as Goddess) inhaled cannabis smoke, then kissed Pharaoh. Pharaoh breathed in the divine smoke of the Goddess. This ritual was essesntial for making the pyramids holy structures rather than ordinary buildings.