Blood Libel
The Blood Libel is the false claim made by the Inquisitions, Witch Hunts, and Witch Trials that supposedly Witches (the Inquisitions, Witch Hunts, and Witch Trials) and Jews (the Inquisitions) who supposedly were extremely ugly with large noses supposedly kidnapped Christian babies and children (supposedly Witches lured them with offers of herbal candies), supposedly raped Christian babies and children (including oral and anal sodomy), supposedly tortured Christian babies and children, supposedly murdered Christian babies and children by baking or cooking them, and then supposedly committed canabilism by eating the cooked bodies of Christian babies and children.
The Blood Libel was used as the official legal justification for beating, gang raping, torturing, sexually mutilating, strangling, drawing and quartering, beheading, baking, and burning Witches and Jews at the stake.
The Blood Libel is the most conscious shocking false charge humanly possible.

There are official government and/or Church paperwork confirming at least 30,000 persons in Germany being put to death by 150 years of German Inquisition and historical documents confirming at least 60,000 persons in Europe (mostly Poland and Germany) for the same period. Cecil Williamson put up a memorial in 1952 dedicated to "the estimated nine million people killed during the witch persecutions in Europe". None of these estimates include the 1-1/2 million Roma murdered in the Nazi Holocaust for Gypsy Witchcraft (six million killed: 3 million Jews, 1.5 million Gypsies, 0.8 million homosexuals, and 0.7 million others).
In 1999 a group of Christian pastors attempted to force the U.S. Army to forbid Wiccans from practicing their religion on the Army base at Fort Hood, Texas. Rev. Jack Harvey, pastor of Tabernacle Independent Baptist Church in Killeen, Texas, allegedly arranged for at least one member of his church to carry a handgun during religious services, "in case a warlock tries to grab one of our kids…I've heard they drink blood, eat babies. They have fires, they probably cook them…"
In 2009 the current Roman Catholic Pope called on Catholics to take action against African Witches (see timeline).
To this day thousands of accused Witches are murdered world-wide. Many of the accused are not actually Witches.
cartoons
The Sunday Times ran an editorial cartoon on Holocaust Memorial Day (January 27, 2013) depicting Israeli Prime Minister benjamin Netanyahu looming over a wall built with Palestinians caught between blood-splattered bricks. The cartoon was created by Gerald Scarfe.
Martin Ivens, acting editor, said that the last thing he or "anyone connected with the Sunday Times would countenance would be insulting the memory of the Shoah or invoking the blood libel."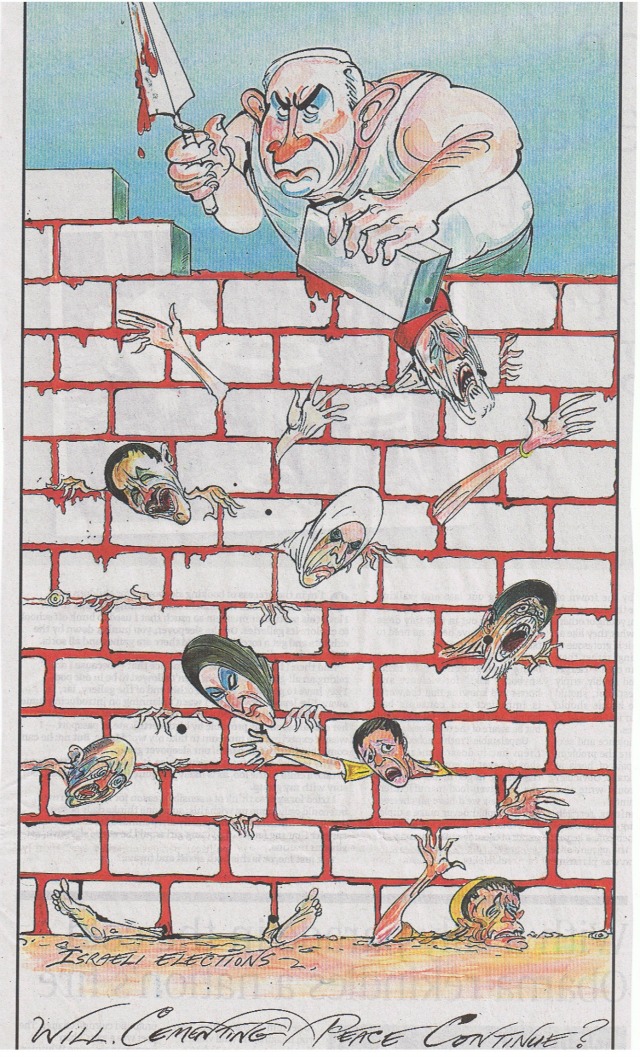 movies
A new movie has been released entitled Hansel & Gretel: Witch Hunters that uses the blood libel as the entire basis of the movie and encourages people to kill Witches world-wide.