bruloirs
Bruloirs are large ovens used to kill Witches in probably the most painful manner possible. In Spain these Christian torture devices are called quemadero or brassero.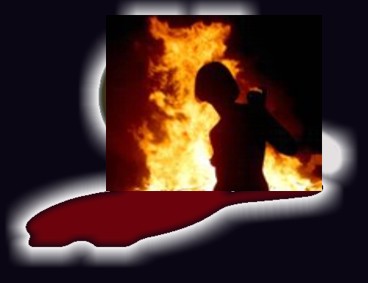 abstract painting of a bruloir
Saint Augustine claimed that burning stakes and bruloirs were justified because hell is a cruel place and cruelty that lasts for less than an hour is preferable to cruelty that lasts for eternity.
The use of bruloirs increased the efficiency of the Christian campaign of death in the exact same way as the infamous Nazi gas chambers, by allowing authorities to kill larger numbers of innocent Witches.
Christian authorities used bruloirs to kill entire families, including the children of Witches.
In 1812, Jacob and Wilhelm Grimm published a collection of fairy tales drawn from German folk sources, including such famous fairy tales as Rapunzel, Rumpelstiltskin, and hansel and Gretel. In Kinder und Hausmarchen (page 68) the Brothers Grimm describe the burning of a with in an oven:
Hu! da fing sie an zu heulen, ganz grauselich;
aber Gretel lief fort, und
die gottlose Hexe muste elendiglich verbrennen.
Which translates into English as: "Oh! How the (old witch) did howl, it was quite horrible to hear her; but Gretel ran away, and the irreligious witch had to burn miserably."
One writer reports: "In a study on the agony of dying based on judgments of forensic pathologists (Rhyne, et.al., 1995), the most excruciating way to die is by fire, followed by pain of death resulting from cutting the throat and by stabbing the abdomen. The bruloirs intensified the pain of death by fire by slowing down the process and increasing its psychological impact by the horror of being enclosed in a small, dark place where the temperature was steadily raising. This method of execution is salient among the cruelest methods designed to intensify the agony of death."