Malleus Maleficarum
Malleus Maleficarum or "the Witch's Hammer" was the primary Roman Catholic document about how to persecute Witches. It was written by Jacob Sprenger and Heinrich Kramer, Domincan monks working on orders from Pope Innocent VIII.
In 1484 Pope Innocent VIII issued an edict entitled Summis desiderantes affectibus alleging that many men and women were in collusion with the Devil. All Christians were required to assist the two Dominican monks, Jacob Sprenger and Heinrich Kramer, placed in charge of handling this supposed Witchcraft problem.
Pope Innocent VIII put Sprenger and Kramer in charge of seeking out and fighting people who supposedly in association with Satan to cause disease and pestilence, harm harvests and cattle, and perpetuate other heinous crimes.
In 1486 Sprenger and Kramer published Malleus Maleficarum or "the Witch's Hammer", codifying the charges, interrogation procedures, and judicial resolutions for Witchcraft trials.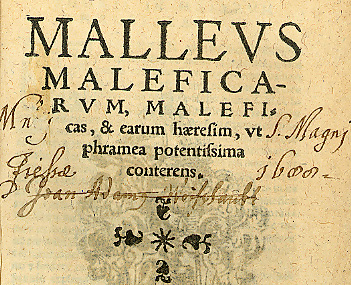 cover of the seventh Cologne edition, 1520
Latin Text: "MALLEUS MALEFICARUM, Maleficas, & earum h¾resim, ut phramea potentissima conterens"
English Translation: "The Hammer of Witches, smashing the Witches and their heresies with a mighty spear."